the proper care and feeding of green thumbs
Check out the latest news and information from the blog.
What would fall be without pumpkins, squashes and gourds? This year I learned, to my surprise, that if you leave the squashes on the vine too long, they'll turn into gourds too.
I don't have a lot of room for vegetables, and squashes are notoriously sprawling plants, but I still plant a few nests every year, because I like their flowers. Read more…
Aah, the queen of fragrance, Polianthes tuberosa, a joy to gardeners and perfumers alike, probably the most fragrant flower ever. Its heady perfume is sultry and intense, a single flower stem can saturate a room with fragrance.
Tuberosa is a hot climate bulb, and much like show chrysanthemums and long stem roses it is easier to get it as a cut flower than to enjoy it in your garden. Growing these in a pot on the balcony is an extra special indulgence for a northern gardener. Read more…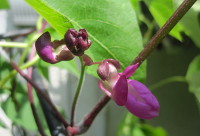 If I knew how much I would enjoy purple beans, I would only have planted those to begin with. Besides being an attractive feature in the garden, they taste better and are not stringy at all, which is a blessing.
Of course the purple color turns green in the pot, but that's beside the point. Read more…